Move your cursor over a picture and if it turns into a hand you can click on that picture and hear an audio file from that person or event.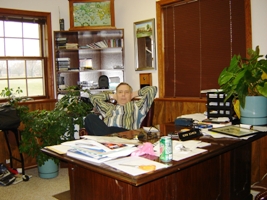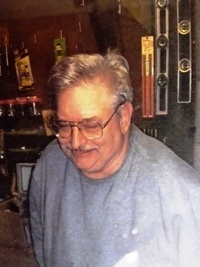 Norm Schrein, station manager & current engineer Kurt Farmer, originating engineer
Volunteers
Rich Apuzzo in our 2nd studio Randi Ricco at the mic in our first studio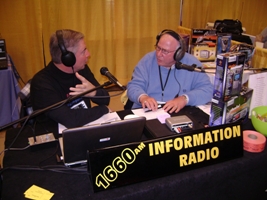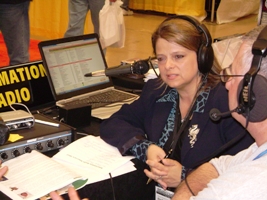 Jerry Halasaz conducts an interview at Hamvention Mary Rogers interviewing folks at Hamvention
May, 2008 at Hara Arena May, 2008 at Hara Arena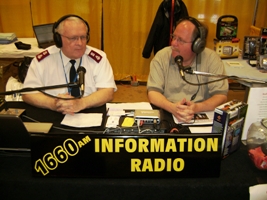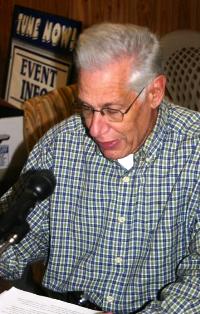 Kevin Fodor (Jason Michaels) live from Hara Arena Harry Schrager reading PSAs in our 3rd
May, 2008 studio -- December, 2007
Norm interviews the cruise director on borad the
Carnival Cruise ship - Inspiration in 2008
Sports
Randy Morrow, Dave D'Marko and Scott Halasaz Barney Sentner and the late Steve Henly Broadcast
broadcasting a Fairmont HS football game in in 2006 a UD women's basketball game from UD Arena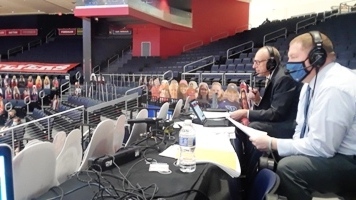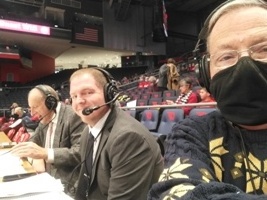 Barney Sentner & Dennis Shaw broadcasting from general Barney Sentner, Dennis Shaw & Norm Schrein
seating at UD Arena during Covid Pandemic in the 2020/2021 season during women's basketball broadcast at UD
Arena in 2021/2022 season
Barney Sentner and Dennis Shaw interview UD women's basketball head coach Shauna Green prior to the 2021/2022 season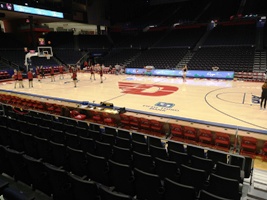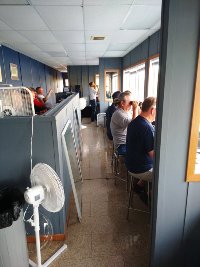 Former Flyers Karah Cloxton & Nikki Oakland Broadcasting Fairmont football from Inside the Fairmont Pressbox
being interviewed at UD Arena Beavercreek High School at Rouch Stadium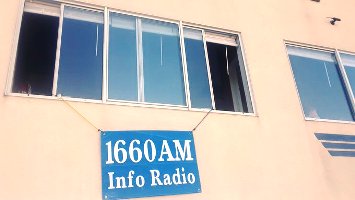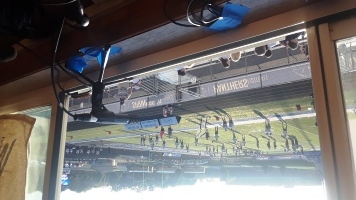 Hanging out the shingle at Rouch Stadium Broadcasting a game from Miamisburg High School


Games from our history

Wright State Women vs UD Women Basketball from 2012
Fairmont vs. Alter Football (August, 2010)
Even More Volunteers
Aaron Primm - Football Norm Schrein at A-10 baseball championship
Barney Sentner Bill Mahle Dave D'Marko Jim McGuire
Basketball, Football, Baseball Football Early Fairmont Football, Football, Special Events
UD Baseball
Randy Morrow Sean Leo Shane Kinder Steve Henly
Football Football Football & Technical Basketball & Football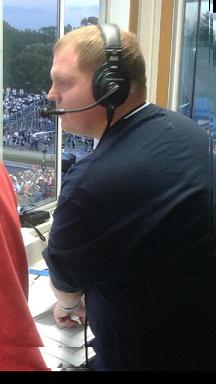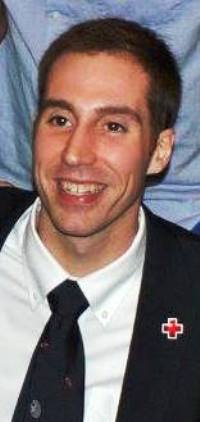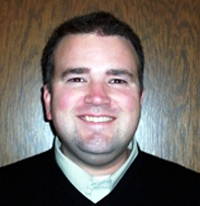 Dennis Shaw, Football, Alex Mikos, Basketball Steve Bermick, Baseball & Shane White,
Basketball & Baseball Special Events Basketball
Sue Weber, Reader Abbie Farmer (on left) Special Events Jamie Jarosik, Weather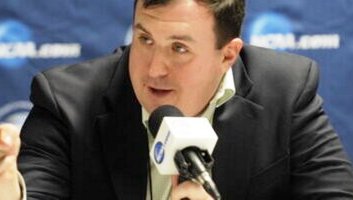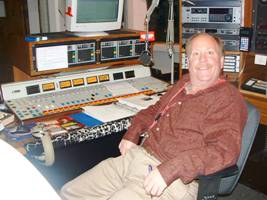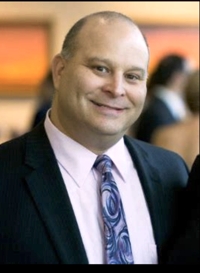 Bill Thomas (Early UD Women's Basketball) Kevin Fodor (Jason Michaaels), Scott Halasaz, Early Fairmont
Market Reports Football
Rich Apuzzo, Weather Carl Nichols, Weather Brian Davis, Weather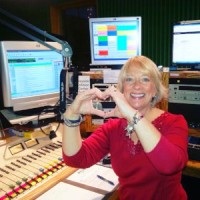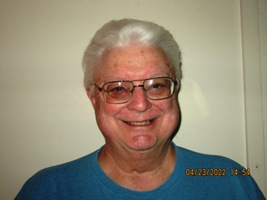 Kim Farris, Reader Noel Baldwin, Outdoors Program, Reader Melissa Barrington, Weather
Tara Hastings, Weather Eric Mann, Reader Erik Zarnitz, Weather
Donna Beran, Reader Debbie Warren, Reader Maureen Russell Hodgson, Centerville Datebook
Larry Hansgen, 9AM/PM time check Nancy Wilson, 3AM/PM time check Steve Karrigan, 3PM/AM time check
Carly Smith, Weather Nancy Cartwright, 4AM/PM time check Connie Chung, Station ID
Mike Hartsock, 11AM/PM time check Mark Allen, 6AM/PM time check Neil Gittelman, 8AM/PM time check
Natalie Walters, 1AM/PM time check Don Hammond, 1AM/PM time check Cheryl McHenry, 5AM/PM time check
Debe Dockins, Washington-Centerville Patrick Reynolds, 10AM/PM Rhonda Kurtsinger, reader
Library happenings tune check
Holly Braly, Science and the Sea Dr. Scott Tinker, Earth Date Mary Rogers, Reader Cameron Saliga, Weather
Al Thompson, Reader William Torock, Crime Stoppers Tom Nichols, Station ID
Jamie Simpson, 1AM/PM Time Check Peter Horan, Reader Allie LaForce 6:30AM/PM Time Check
We have gone through 20 years of recordings and it seems like we had a cast of thousands read some of our PSAs. Unfortunately time and distance means that we have not been able to match up all voices to the recordings. If you did record something for us over the past 20 years we want to say thank you and please get back in touch with us so we can get you to record more.
Information Radio On The Road
Covering Boomer Esiason At the Dayton Celtic Festival Doing an interview from top of the Willis Tower
talking about CF in March 2009 July, 2003 Chicago, Illinois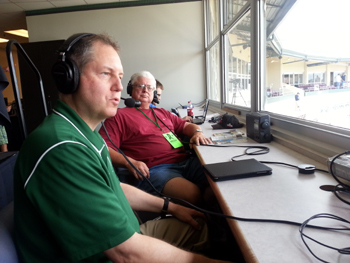 Doing an interview at a festival in Dallas, Texas Noel Baldwin talks baseball with Tom Nichols who is
the Dayton Dragons radio sportscaster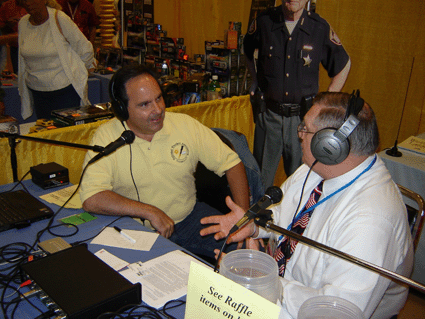 Steve Bermick at the neighborhood garage Rich Apuzzo doing a live interview at the Dayton Hamvention
garage sale in Kettering, August 2008 from Hara Arena in May, 2008
Covering the John McCain ralley at Covering the Barack Obama ralley at Talking to a vendor at a radio show in
the Nutter Center, August 2008 5/3 Field in Dayton in October 2008 Mesa Arizona
At the Ronald Reagan Library (California) - December, 2013 Doing a live broadcast outside from Seaside Oregon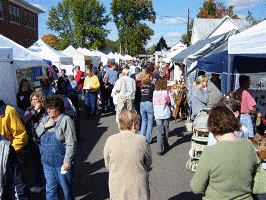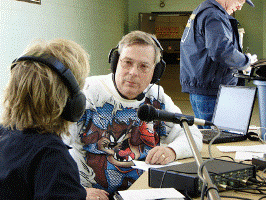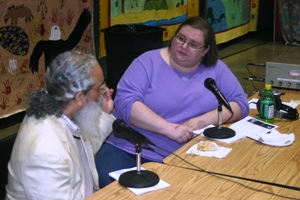 At the Walnut Festival in Camden, Ohio Norm does an interview at the Toledo Abbie Farmer live on the air at the Worldaffair
July, 2004 Hamfest March, 2007 May, 2005

Jim McGuire conducts interviews at Hauntfest Covering George Bush's visit to the Museum
of the US Air Force on Veteran' Day, 2010
Information on the road full programs from years past
Live from the Ronald Reagan Presidential Library in Simi Valley CA
Live from the National Cowboy & Western Heritage Museum in Oklahoma City, OK
Live from the Dayton Celtic Fest in Dayton, OH
Live from 5/3 Field & the Dayton Dragons in Dayton, OH
Live from the Museum of the US Airforce with George W Bush in Fairborn, OH
How did it all start?
From Norm Schrein (Station manager): I have been asked on more than one occasion how do people get into broadcasting and I don't have a really clear answer. Some folks find out later in life that they have an interest while others were always fascinated with radio in one form or another. Speaking from my point of view, my interest has always been on the technical side of how radio works. I started out with some of my friends as teenagers who began our own neighborhood radio station. We did not have a license nor did we bother to get one. We just got some equipment together and a long wire and started our broadcasts along with a record player and microphone. Our station could only be heard for a few houses nearby in our neighborhood but we were on the air! I also had a CB radio in its hay day and eventually moved into amateur radio. Other folks took a more professional approach to things such as taking up broadcasting in college while others did it by the seat of their pants. No matter how they got the bug it apparently stuck and you can see by the varied ages and abilities and backgrounds of people who have helped us over the years that no matter what their age or profession they still have that interest in broadcast radio and television. Our station ( which originally began life as Information Radio 1610) is designed to provide public service announcements to our community and that is what we primarily do but because the the input from our volunteers our sound is professional. If you would like to volunteer with us be sure to let me know. You can reach me most of the time at 937-299-7226 (Tuesday-Thursday) between 11AM and 4PM. Finally, below are a few pictures of my teen days and our radio station. Oh, yes, thanks for listening. Norm Schrein (Station Manager)
The really early days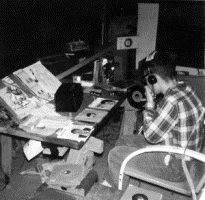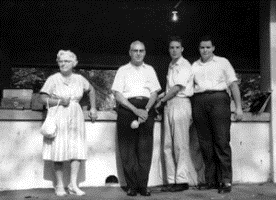 This was our early days as teens Margaret & Ted Suman, myself and Reaching for a commercial to play at WTOL
on the air with our microphone Gene Austin playing music for an event in Toledo, Ohio. No, I did not broadcast as a
and record player. in Island Park in Dayton, Ohio. teenager but they let me pose for the photo.